Celebrate in style at The Royal Albert
We can accommodate dinner parties great and small.
(Christmas menu not available on Sundays)
–
Fill in the booking request form at the bottom of the page and our team will be in touch shortly.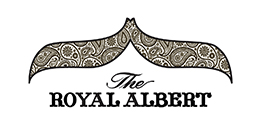 CHRISTMAS MENU
TWO COURSES £19 | THREE COURSES £23
STILTON & CHICORY, PICKLED WALNUTS, SHERRY & RAISIN DRESSING
POTTED SHRIMPS, GRANARY BREAD
GAME TERRINE, PUMPKIN CHUTNEY
***
ROAST CROWN OF BLACK TURKEY, 
ROAST PARSNIPS, POTATOES, SPROUTS & CHESTNUTS, CRANBERRY GRAVY, YORKSHIRE PUDDING
BRAISED SHIN OF BEEF,
HORSERADISH POTATO PURÉE, MUSHROOMS & BACON
ROASTED HADDOCK FILLET, POTATO, BEETROOT AND HORSERADDISH ROSTI, 
 CREAMED SAVOY CABBAGE
LEEK & MUSHROOM SHORTCRUST PIE, 
PUMPKIN DAUPHINIOSE, WATERCRESS SALAD
***
CRANBERRY PARFAIT, TANGERINE SORBET
CHRISTMAS PUDDING, CREAM or BRANDY BUTTER
MULLED POACHED PEARS, CHOCOLATE SAUCE,
VANILLA ICE CREAM
Available for advance bookings of 6 or more guests.
–
A £10pp deposit is required 48 hours prior to booking, pre-orders will be required 1 week prior.
Cancellation less than 48 hours before booking will result in deposit being retained.
–
Christmas Menu available Mon-Sat throughout December and Sunday 18th December
BOOKING REQUEST FORM
CHRISTMAS OPENING HOURS
Day
Bar
Kitchen
Fri 23rd
12pm-1am
12pm-4pm
5pm-10pm
Sat 24th
12pm-1am
12pm-4pm
5pm-10pm
Sun 25th
Closed
Closed
Mon 26th
12pm-12am
12pm-6pm
Thu 31st
12pm-2am
12pm-6pm
All other days follow our normal opening hours